How much does it cost ?
BIGrender is very cheap in comparison to other plugins for 3dsMAX or VIZ.
It only costs 30euro(aprox 35$) and includes ONE YEAR of FREE UPDATES

and online support.
Ok, I want one, how can I obtain it ?
You can buy BIGrender using your credit card (VISA or MASTERCARD).
STEP 1.
Push the button below and you will be redirected to a secure server (PAYPAL).
STEP 2.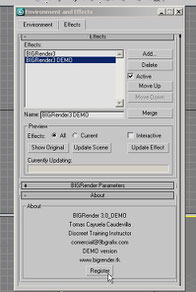 Get your BIGrender license code.
This code is generated by BIGrender DEMO pressing REGISTER button into ABOUT rollout and is unique.
STEP 3.
Send us your BIGrender license code and in a few minutes you will receive a FULL LICENSED copy of BIGrender.